In an ideal world, the nutrients necessary for optimal health would be delivered through a daily diet of whole, unprocessed, locally grown, and freshly picked foods. However, for today's families, it can be difficult to find time to prepare nutritious meals from scratch in a day already filled with work, school, practices, and countless other things. This has led many families to supplement their diets through multivitamins and other natural health products. Just like food, supplements can also vary in terms of quality and nutritional value.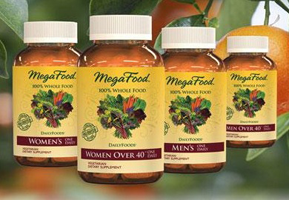 During the last century, scientists have been studying the nature of vitamins and minerals, trying to understand their functions in the human body.  When it comes to truly nourishing whole foods, isolated vitamins and minerals account for only a fraction of the goodness. In recent years, researchers have discovered a myriad of other compounds which are collectively known as phytonutrients.  Together with macro and micronutrients, these phytonutrients make up the whole food matrix. When the food matrix is consumed in its entirety, the benefits experienced are much greater than if each of these compounds were to be consumed separately.  This is what we call SYNERGY.
This is the main reason why MegaFood uses a range of colorful whole foods to deliver the vitamins and minerals included in their multi-vitamin formulations – carrots, oranges, broccoli, cabbage, organic brown rice, nutritional yeast, blueberries and cranberries!  Over 40 years ago, MegaFood understood the synergistic power of whole foods.  It's the only way to deliver whole food nourishment and not just vitamins alone. Each and every step, from farm to tablet, was designed with the ultimate goal in mind – to create supplements that make a noticeable difference on your journey toward optimal health.