New Chapter® believes that when you're pregnant, having consistent nutrition is important for helping to maintain a healthy pregnancy. Like each woman, each pregnancy is one of a kind. And let's face it, some are far from perfect! But one thing remains the same for every mother-to-be… her baby's health is the #1 priority. After all, your nutritional needs during pregnancy are unique, and your decisions may impact your child's and your health for a lifetime. First and foremost is to maintain a healthy diet and lifestyle. New Chapter's natural health products can be a great way to support your prenatal nutritional needs
What should you look for when deciding on your prenatal multivitamin?
During pregnancy and even before, it's common for women to support their nutritional needs by taking a daily prenatal multivitamin and mineral. There are different types of multivitamins available. Some are blends of synthetic, chemical isolates. Others, like New Chapter's Perfect Prenatal™ take vitamins and minerals another step by fermenting them in a matrix of beneficial probiotics, fruits, and vegetables (no live probiotics are in this product). Fermenting or culturing ingredients with "good bacteria" to enrich them is actually a practice that goes back thousands of years. New Chapter brings this tradition of fermentation to Multi's, transforming vitamins and minerals into dynamic networks of nutrients. In addition, Perfect Prenatal delivers targeted medicinal herbs, many of which are fermented, just like the vitamins and minerals.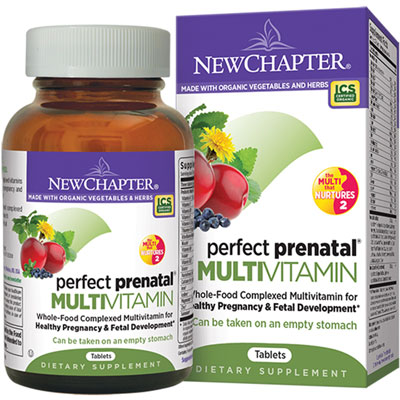 What should you look for when deciding on your prenatal multivitamin?
If you are pregnant or planning to be, Perfect Prenatal is formulated with your needs in mind. Every daily dose provides pregnancy-essential nutrients, including Vitamin D3 and Iron, and Folate to help reduce the risk of neural tube defects. In addition, Perfect Prenatal delivers organic medicinal herbs for the maintenance of good health, including Rose Hips, Prunes, and Broccoli. Perfect Prenatal's once-per-meal formula of nutrients is easy to take and is suitable for vegetarians.