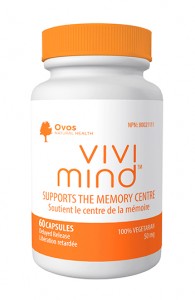 VIVImind ™  Research Driven Protection for Your Brain Cells!
It is incredibly rare for a natural health product to be backed by 15 years of clinical research using magnetic resonance images (MRI) of the brain.  VIVImind™ was studied in over 2,000 patients worldwide, and its claims are backed by $200,000,000 in research investment.
As we age, the Hippocampus (the region of the brain responsible for memory, learning and spatial navigation) begins to shrink due to loss of brain tissue and nerve cell damage.  This condition affects 40% of adults between 60-78 years of age and is commonly referred to as Age Associated Memory Impairment.   In some individuals, neuronal damage can become exacerbated and lead to Alzheimer's disease.  Approximately 40% of Alzheimer's patients carry the APOE4 gene, the genetic marker that indicates an increased risk of AD.  VIVImind™ studies demonstrate a more prominent effect on improving language and memory and reducing brain volume loss in individuals carrying this gene.
The unique molecule in VIVImind™ is found in Marine Red Algae.  It does not interfere with important liver detoxification enzymes or with anticoagulant drugs such as Warfarin.  VIVImind™ is not an instant solution so make it a part of your long term brain protection program today.
VIVImind ™ is manufactured in Calgary by Ovos Natural Health, an AOR brand specialized in supporting healthy aging.