Vega One Nutritional Shake available at Vitamins First
Start your day strong with the complete daily essentials you need to thrive. Good for your body and the planet, is the clean, plant-based choice to fuel your healthy, active lifestyle—without compromise. Made from natural, whole food ingredients, Vega One Nutritional Shake is a convenient, all-in-one supplement, packed with 50% daily intake of vitamins and minerals, 15 g protein, 6 g fibre, 1.5 g Omega-3, plus antioxidants, probiotics and greens.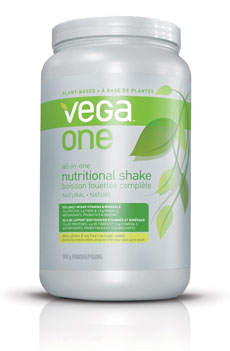 Take Vega One daily to cover your key nutrient bases for optimal health, provide energy to sustain an active life, help metabolize fats, proteins and carbohydrates, support normal glucose metabolism, develop strong bones and teeth and maintain healthy skin and eyes, facilitate proper muscle function and repair of connective tissue, promote natural, healthy intestinal flora, and help support a healthy immune system.
Formulated by Brendan Brazier, professional Ironman triathlete and bestselling author on performance nutrition, Vega One is free from dairy, gluten and soy, and contains no added sugar, artificial flavours, colours or sweeteners.
Available in Berry, Chocolate, Vanilla Chai and Natural flavour, enjoy Vega One shaken with water, juice or a non-dairy beverage of your choice, and as a delicious, nutrient-supplementing addition to your favourite smoothie recipe.            www.MyVega.com