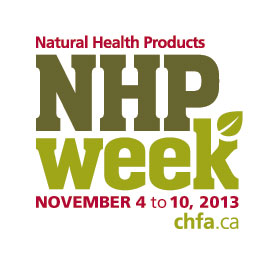 Take part in Natural Health Products Week
Canadians across the country will be celebrating Natural Health Products Week from November 4 to 10, 2013.
"This annual event shines a spotlight on the importance of natural health products and is a great opportunity to evaluate our current health regime," says Helen Sherrard, president of the Canadian Health Food Association, which represents the natural health industry. "Many of us will be inspired to look for ways to improve our well-being through diet, lifestyle choices, exercise and supplementation."
To celebrate Natural Health Products Week, CHFA is challenging Canadian families to make these three simple, natural changes that can have a positive impact:
Enjoy more whole foods—Convenience is entrenched in the modern lifestyle, which often means grabbing fast, processed food and snacks. However, it's just as convenient to eat whole foods, and a much healthier option. Whole foods are typically unprocessed or unrefined. Nuts, seeds, fruits and vegetables are good examples of healthy ready-to-eat foods.
Learn which natural health options improve your health—Stop by your local health food retailer where knowledgeable staff can share helpful information and health tips with you. While there, you can celebrate Natural Health Products awareness Week by participating in draws for prizes, enjoying a sample taste test, or picking up natural health items you need.
Go organic—Certified organic foods have been grown and handled according to strict procedures in an environmentally responsible way and without persistent toxic chemical inputs,. While exploring organic options check out other products from clothing to cleaners that are also free of toxic chemicals and much kinder to the environment.
More information, including the locations of health food retailers in your community, can be found online at chfa.ca.