SISU To Go Ester-C Energy Boost is a daily, rehydrating vitamin drink mix. Multi vitamin and mineral supplement. A factor in the maintenance of good health.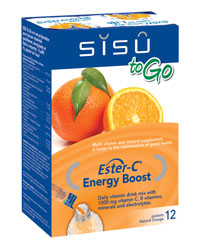 The demands of our busy lives can lead us to neglect our own health and, over time, result in reduced energy, mood, and immunity, thereby "aging" us more quickly. Vitamin C is one of the best-researched nutrients and a key aspect of healthy aging. It is essential for the proper formation of collagen, the building block of many tissues, and a crucial component in skin rejuvenation. Vitamin C strengthens the immune system by supporting and improving white blood cell function, and also helps to reduce the release of histamine in the body, thus alleviating allergy symptoms.
In addition to vitamin C, there are multiple nutrients that the body needs every day to function at its best, including B vitamins and minerals. Electrolytes such as sodium, potassium, calcium, and magnesium are minerals essential for rehydration and energy production as well as cardiovascular, muscle, and nervous system functions. Ester-C Energy Boost combines all of these important nutrients in a convenient drink mix to help keep active, busy people feeling their best and performing at their peak.