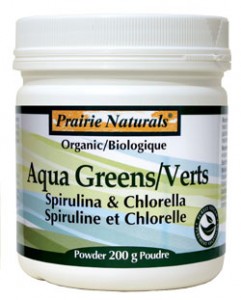 Spirulina & Chlorella. Better together, naturally! 
Some foods just belong together.  Combining two of the world's most popular and beloved green energizers together into one super powerful and  convenient SuperFood duo?  That's exactly what we did at Prairie Naturals when we created our new Aqua Greens, and equal ratio blend or organic Chlorella and organic Spirulina.
Chlorella is one of the most ancient food plants on earth.  Chlorella contains the highest concentration of chlorophyll of any plant on earth.  Chlorella also contains all the essential amino acids and essential fats, along with vitamins, minerals, antioxidants and lutein.  Chlorella has a positive effect on blood cholesterol, blood sugar and appetite control.  Studies show it also has the power to remove toxins from the body.  Prairie Naturals chlorella undergoes a special procedure to break open (but not remove) the indigestible cell wall, allowing access to all the nutrients.  The indigestible fibre also serves as a natural prebiotic that promotes probiotic activity in the intestinal tract.
Spirulina is a blue green algae and another ancient superfood plant.  It contains as many as 10 carotenoid pigments, all of them act as disease preventing antioxidants. Spirulina is a proven Fat-fighter. These tiny, single-celled fresh-water micro algae contain an impressive 70% protein content and high levels of B12. Researchers have found that spirulina intake reduces blood cholesterol and inflammation. Regular supplementation with spirulina also removes accumulated toxins in the body, creating a gentle and safe daily cleansing effect.
Aqua Greens are grown sustainably and organically outside and in the sunshine in ecologically protected areas to ensure purity and maximum nutritional value! Vegan & gluten-free.