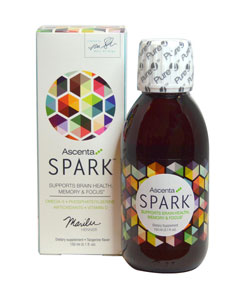 Maintain the memory and focus you need to lead a vibrant life with Ascenta Spark, a new all-in-one brain health formula.
Just one teaspoon of Ascenta Spark delivers 500mg of EPA+DHA, plus phosphatidylserine, lutein, zeaxanthin, and vitamin D3 – all with proven brain health benefits. These 6 key ingredients, work synergistically to support cognitive health and brain function (including memory and focus), as well as  promoting  eye health.
Ascenta Spark is available in a delicious tangerine flavor. Spark your brain today!