The growing trend towards consuming whole foods is on a steady incline, and for good reason. Research suggests that the best way to get nutrients from food is to consume whole foods. Plants provide a broad spectrum of nutrients, not just vitamins and minerals. Nutrients from whole, raw foods are team players; in other words, a valuable synergy that allows key vitamins and minerals to work more effectively together, making them more bioavailable so your body can absorb them easily.
Eating a whole foods diet, three times a day, every day is a difficult task for most of us. For this reason, nutritional supplements are capturing the benefits of whole foods – such as Natural Factors' Whole Earth & Sea line, with offerings from multivitamins and bone-health formulas, and more.
Many of the ingredients for Whole Earth & Sea are sourced from Factors Farms, Natural Factors' own certified organic farm in BC's fertile Okanagan Valley. Healthy organic soil contains all the vital nutrients that plants need to thrive, and foods grown organically have been shown to contain higher levels of key antioxidants and other vitamins and minerals. Consequently, growing organic herbs, fruits and vegetables for whole food supplements makes perfect sense.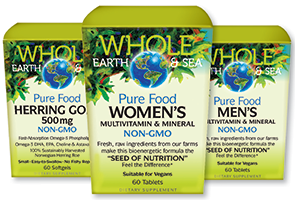 For the team at Natural Factors, growing at home is important; not only can the quality of the products be controlled from the ground up, but we can also provide Canadians with local, organic herbals they can trust. For the majority of Canadians, that means food and supplements grown right here in our own backyard, with all the benefits that come with buying locally grown, locally produced goods: a boost for the local economy, local jobs, sustainability, and healthier communities.