Although cholesterol, blood pressure and blood sugar medications are widely prescribed, the long-term use of these drugs can come with a range of side effects. Fortunately, research indicates that there are natural and safe treatment options. That's where Dr. Klein's Healthy Heart Plus™ comes in. This formulation makes it easier to get the nutrients you need to promote healthy cardiovascular function, sugar and fat metabolism.
Published studies reveal that poor cardiovascular function; elevated blood pressure, cholesterol and blood sugar levels can often be safely restored with the use of a variety of nutrients, including vitamin C, Co enzyme Q10, magnesium, B vitamins, chromium, zinc and selenium. Ideally, you should receive the nutrients you need from food, but it's difficult to get adequate amounts from food only.  As a naturopathic doctor who focuses on heart-related conditions, I often recommend nutritional supplements.  However, taking various supplements can become expensive and inconvenient.
Dr. Klein's Healthy Heart Plus™ solves that problem. It combines 23 important nutrients at therapeutic dosages in a single container that's convenient, economical and easy to use. It's a powder that you simply mix in water or juice before breakfast and dinner. The product generally can be safely taken with medications*.
Approved by Health Canada it is available over the counter** through health stores.
To learn more please visit www.my-health-supplements.com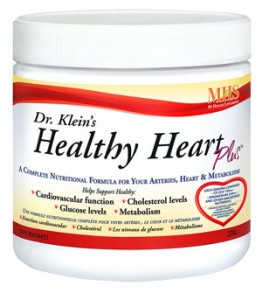 * Consult a health practitioner if you are on blood pressure or blood thinning medications. (These may need to be reduced as your condition improves.)
** This is an over-the-counter product and it is not meant to replace healthy life-style and dietary choices, nor is it a replacement for consulting a primary care practitioner.