At Garden of Life, our beliefs are simple. Create clean, whole food, nutritious Certified USDA Organic and NonGMO Project Verified products to empower your extraordinary health. Although this process is no easy task, the reward comes in knowing we've been able to change people's lives—for the better. The multitude of success stories we hear keep us passionate and thankful to have this opportunity. Garden of Life is committed to using unbiased third parties such as Vegan.org, Gluten-Free by the Gluten Intolerant Group of North America, Kosher and Informed-Choice whenever possible. With regards to our global welfare, our Leed Certified corporate office and our certification as a B-Corp showcase Garden of Life's pride in protecting our planet by participating and adhering to the standards of these organizations:

mykind Organics ORGANIC PLANT COLLAGEN BUILDER
mykind Organics ORGANIC PLANT COLLAGEN BUILDER is Certified USDA Organic, Non-GMO Project Verified, made only from organic plant foods – and can help support the body's own natural production of collagen by providing key nutrients such as Vitamin A and C.
You can't build collagen by eating collagen. Collagen is a protein that is broken down by the digestive system. Made from over 30 real, nutritious, organic, family-farmed whole foods, with specifically chosen ingredients to help support the body's own collagen production – ORGANIC PLANT COLLAGEN BUILDER can help support normal levels of collagen, keratin and elastin – three proteins which promote the body's healthy, natural glow.
ORGANIC PLANT COLLAGEN BUILDER contains Silicon – derived from Certified Organic Thorny Bamboo Extract – a key co-nutrient for collagen production. The formula also contains Biotin to support healthy hair, skin and nails and antioxidants to help protect against oxidative damage caused by free radicals. Each tablet is uniquely made using Clean Tablet Technology. This means that our tablets are made only with food and contain no magnesium stearate.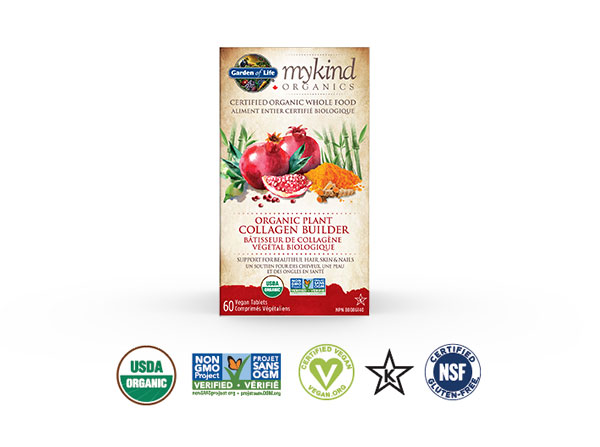 Product Overview:
Supports beautiful hair, skin & nails
1250 mcg Whole Food Biotin from
Organic fruit and vegetable blend
3.15 mg Whole Food Silicon from Organic Thorny Bamboo
Antioxidants from Organic Pomegranate and Green Tea
Made from over 30 organic fruits, vegetables & botanicals
Dr. Formulated PROBIOTICS Once Daily Prenatal 20 Billion, Cooler & Shelf Stable
The newest addition to the Dr. Formulated line has arrived. Optimum prenatal care consists of three steps: 1. Take a premium organic prenatal multivitamin containing folate 2. Supplement with DHA omega-3 fish oil 3. Take prenatal probiotics For step three, Dr. Perlmutter created this unique formula with probiotics clinically shown to support gastrointestinal health for moms during pregnancy and lactation.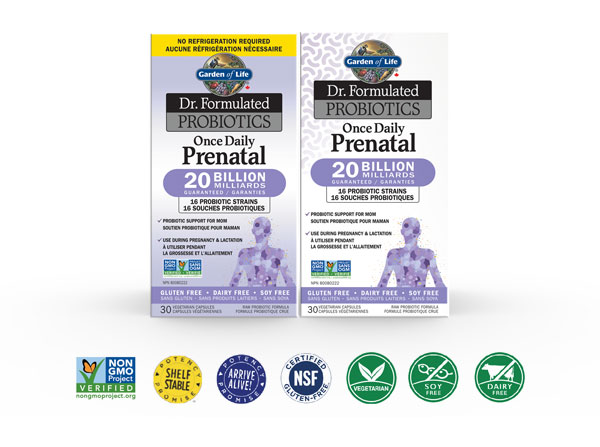 Product Overview:
16 strains providing 20 billion CFU per day
Contains the clinically studied probiotic L. rhamnosus HN001
For use during pregnancy & lactation
Hypoallergenic, gluten, dairy and soy free, vegetarian
Once-Daily capsule
Dr. Formulated PROBIOTICS Organic Kids+
5 Billion, Cooler & Shelf Stable
For parents who are looking for a powerful probiotic supplement for their kids to add to their daily health plan, Dr. Perlmutter formulated Organic Kids+ in a Cooler & Shelf Stable version. This formula is a convenient, Organic and delicious Watermelon flavoured once-daily chewable. It is made from 14 diverse strains of beneficial probiotics providing 5 billion CFU, formulated specifically with kid's unique digestive health in mind.
Product Overview:
Tasty Organic Watermelon flavour in a once daily chewable
Contains whole food vitamin C from Organic Amla (30mg), vitamin D (400 IU) and 5 billion CFU probiotics for gastrointestinal health
Certified USDA Organic—grown without toxic pesticides, antibiotics, hormones or genetic engineering
Certified Non GMO Project Verified
Hypoallergenic, gluten, dairy and soy free,
Vegetarian
Comes in a 30-day supply
RAW ORGANIC ALL-IN-ONE SHAKE
Garden of Life® is proud to partner with USA Track & Field as their designated "Official Protein Powder." All Garden of Life protein powders were chosen due to their third-party certifications ensuring clean, pure protein that's free of GMOs, chemicals, hormones, antibiotics or any banned substances.
For those with an on-the-go lifestyle who want to eat healthy, fast food just isn't an option. That's why there's Raw Organic All-In-One – convenient, organic shake and meal replacement that's packed with 44 superfoods which provides you with the protein, fiber, vitamins and minerals you would find in a healthy shake or meal of raw foods. A one-scoop serving delivers 20 grams of clean Certified USDA Organic and Non-GMO Project Verified protein—all from organic peas and 13 sprouted grains and seeds. Raw Organic All-In-One also includes fruits and vegetables, greens, live probiotics and enzymes as well as 21 whole food vitamins and minerals. Just as important is what's not in Raw Organic All-In-One – It has no gluten, tree nuts, filler ingredients, artificial colours, flavours, sweeteners or preservatives. And it's RAW— always gently produced at low temperatures – since heat and processing can denature proteins, reducing their availability to your body.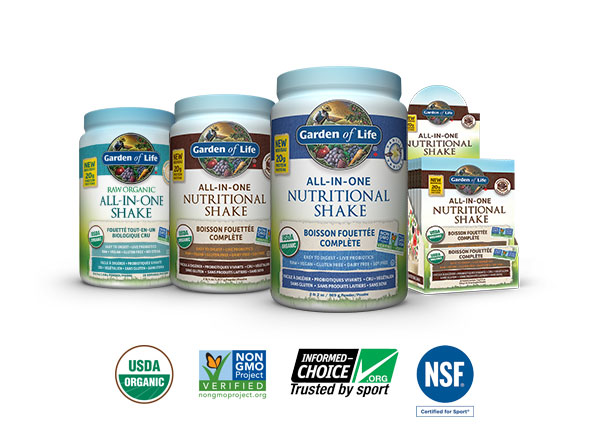 Product Overview:
All-In-One Nutritional Shake, 20g Protein & 44 Superfoods
21 Whole Food Vitamins and Minerals
Raw, Vegan, Gluten Free, Made Without Dairy or Soy Ingredients
Easy to Digest
Live Probiotics
Available in Vanilla, Chocolate & Lightly Sweet flavours