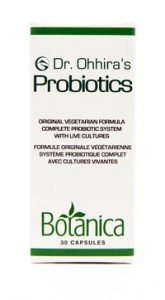 If you are looking for one of the easiest, most effective steps that you can take to improve your health, look no further than Dr. Ohhira's Probiotics.
Dr. Ohhira's Probiotics by Botanica are produced during a 3-year, natural temperature, fermentation process.  Microbiologist Dr. Iichiroh Ohhira Ph.D. combined an ancient Japanese fermentation process with modern technology to create this unique probiotic.   The 92 scientifically researched and carefully selected vegetables, fruits, mushrooms and seaweeds are hand-crafted and introduced into fermentation vessels only when each ingredient is seasonably ripe for fermentation.  These friendly bacteria are hardy and resilient enough to survive without refrigeration.
This unique fermentation process supplies a complete probiotic system including prebiotics, enzymes, micro-nutrients, and organic acids. Dr. Ohhira's Probiotics by Botanica, help restore the balance of intestinal microflora so important for digestion, a healthy immune system, and overall good health.  This highly concentrated fermented food has been helpful for constipation, yeast overgrowth issues, severe acne, food poisoning, hay fever, nasal congestion, asthma and more.  Give your body the friendly bugs it needs with Dr. Ohhira's help!
Dr. Ohhira's Probiotics by Botanica are a vegan, all-natural product hand-crafted and fermented in Japan; there is no dairy, soy or gluten and are non-GMO and chemical free.