When fighting colds or flu, you gotta go DEEP!
St Francis famous Deep Immune® is used primarily as an antiviral to tonify a weak immune system. Deep Immune® reinforces the basic functions of the body and helps maintain physiological and psychological equilibrium. It has a strengthening effect on our body's "deep immune" system, nourishing its very bone marrow and enabling it to produce more immune reserves. Deep Immune® can be used to counteract the debilitating effects of surgery, chemotherapy, and radiation, as well as autoimmune and immune deficiency diseases.
Made from carefully sourced, high quality organic/ Certified Organic/wildcrafted herbs, Deep Immune® is a uniquely effective product, formulated over 30 years ago to optimize your healing and immunity. This premier formula has been clinically tested by medical practitioners over the course of decades.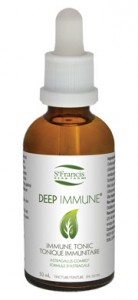 Other Benefits of Deep Immune®
Acts as a general tonic improving overall health, energy, and vitality
Lessens the tendency for frequent colds, flu, and infections
Relieves fatigue and exhaustion
Alleviates the symptoms of allergies
An aid to digestive health
Helps with electromagnetic stress
Safe and effective for young and old and recommended for long-term use!