Botanica's tinctures and Liquid Phytocaps both deliver potent herbal medicine in a liquid form for superior absorption at a therapeutic dose.  Herbs may be taken as teas, tinctures, or capsules but they are not all created equally.  Teas deliver only water-soluble compounds with all of the fat and alcohol soluble medicines going to waste, and encapsulated dried herbs require digestion before absorption.  This reduces the potency of dried herb products due to the limited time available in the digestive tract for extraction.

Botanica tinctures employ organic gluten-free alcohol and pure water to extract the full complement of medicinal actives over time from the appropriate part of the plant.  While most tincture companies stop there, Botanica goes one step further to include the minerals from the plant for added therapeutic potency.  This fortification process is known as spagyric extraction and is unique to Botanica herbal tinctures.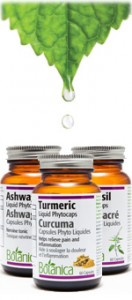 Botanica Liquid Phytocaps begin with a blend of alcohol and water for superior herbal extraction but ultimately transfer the compounds into a pure glycerin base for product stability, and to allow the medicine to remain in a liquid form within a vegetarian capsule.  A liquid herbal extract in a vegan-friendly, gluten-free capsule sets the Phytocaps apart from the competition.  The liquid extract is concentrated and potent so that results can be obtained with a lower dose than in herbal capsules that use dried plant matter, leading to better results from fewer pills!
Efficacy between Botanica's tinctures and Liquid Phytocaps are comparable. Tinctures are more appropriate for those who may need to vary their dose, while Phytocaps better suited for travel or for those who prefer not to taste their medicine.