Botanica Perfect ProteinTM is a balanced protein blend of coconut, sprouted and fermented brown rice, and nutritionally-dense quinoa. With an ideal amino acid profile and 20g of protein per serving, Perfect Protein provides the most complete, digestible source of plant-based protein. Improved performance and absorption occur because Perfect Protein is packed with naturally occurring vitamins, minerals, antioxidants, healthy fats, and fibre. Plus there are no sweeteners of any kind – even stevia!
What makes a protein perfect? Each of the certified organic ingredients in our formula contributes a unique balance of nutrients, working synergistically for a protein blend that is…well…Perfect!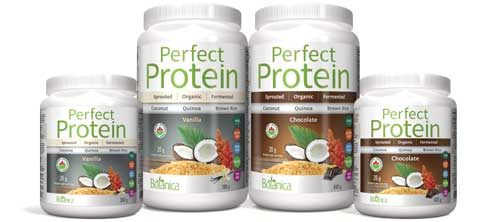 Coconut: Everyone's favourite superfood can also be a source of protein! Coconut includes an abundance of cofactors, including fibre, fats, and minerals, which help protein absorption and boost energy.
Quinoa: The quinoa in Botanica Perfect ProteinTM is milled and conditioned, resulting in a highly digestible protein that includes an ideal balance of amino acids and nutrient cofactors for improved absorption.
Sprouted, fermented brown rice: Brown rice is an ideal source of protein, fibre, vitamins, and minerals, but can often be difficult to absorb. The brown rice in Botanica Perfect ProteinTM is sprouted and fermented, improving digestibility.
Organic flavours: Nothing artificial! Even the flavours in Botanica Perfect ProteinTM are certified organic, including Organic Cocoa, and we use no added sweeteners.