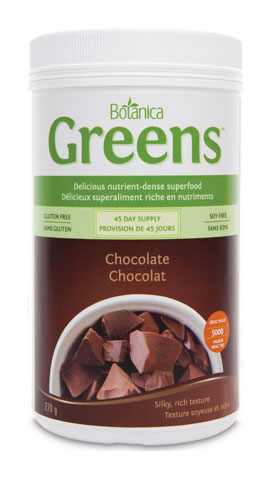 Botanica Immune-Boosting Mint Hot Chocolate
Help your family stay healthy throughout cold and flu season with a tasty, guilt-free treat. Our Immune-Boosting Mint Hot Chocolate helps the whole family get a daily dose of vegetables and maintain a strong immune system. This recipe uses Chocolate Greens and Olive Leaf Complex from Botanica, both of which are sugar, soy, and dairy free!
Stir 1 scoop of Botanica Chocolate Greens to a mug full of hot water.
Stir in 2 tbsps of Botanica peppermint flavoured Olive Leaf Complex
Add your favourite milk or milk alternative to taste
Botanica Chocolate Greens have a rich, silky texture and taste just like chocolate milk! Made with natural cocoa powder, these Greens are sweetened with stevia and contain no sugar.
Botanica Olive Leaf Complex is a full spectrum antioxidant that has traditionally been used to maintain good health. Flavoured with natural peppermint, this extract helps provide daily immune support for the whole family! Olive Leaf has also been shown to have anti-inflammatory effects and can help support a healthy cardiovascular system.