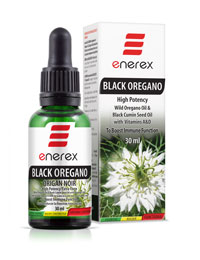 Black Oregano is a unique product that combines two potent remedies of Oil of Oregano and Black Seed Oil. Both have long histories of traditional use dating back to ancient Egypt where it was found in King Tutankhamen's tomb. This high potency blend also includes Vitamins A & D to effectively boost your immune system.
Black Oregano is beneficial in alleviating many ailments, specifically gastric conditions such as upset stomach, relieving diarrhea and intestinal parasites, or a digestive tonic.  It also has very strong immune stimulating properties for respiratory conditions like asthma, allergies, cough, fevers, and the flu.
As the weather heats up and kids head outside for summer vacation, the likelihood of cuts and scrapes increases, which is why Black Oregano with its antiseptic properties is the ideal remedy for your first aid kit and your travels.  Apply topically to sooth insect bites and stings, help with pain relief, heal burns, and even keep hair and skin looking healthy.
Black Oregano is a must have product for any household. Talk to the knowledgeable staff at any of the Vitamin's First locations to learn more!