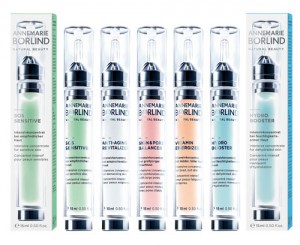 Intensive concentrates that offer instant-effect skin care. The key active ingredient, Phytoplankton ensures healthy, even, and deeply moisturized skin.
SKIN & PORE BALANCER
Is for combination skin with large pores, prone to oiliness and blemishes.
ANTI-AGING REVITALIZER
For demanding skin prone to lines and wrinkles, which has already lost some of its elasticity.
VITAMIN ENERGIZER
For tired, dull skin that needs an extra, revitalizing boost of vitamins to regain its fresh appearance.
HYDRO BOOSTER
For dehydrated skin that can only store a little moisture and therefore requires more.
SOS SENSITIVE
For sensitive skin that reacts hypersensitively to heat, cold, stress, and other factors, and is prone to redness.